For the fourth day in a row, activists in Berlin have drawn attention to the hunger strike of political prisoners in Turkey. The prisoners demand an end to the isolation of Abdullah Öcalan and inhumane prison conditions.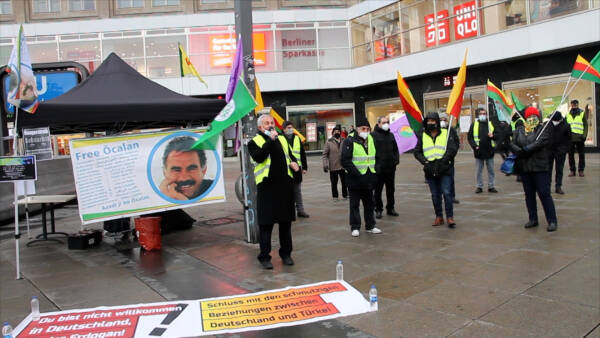 For the past four days, a solidarity action has been taking place in German capital Berlin for the hunger strike of political prisoners in Turkey. The prisoners are demanding an end to the isolation of Kurdish leader Abdullah Öcalan and inhumane detention conditions in prisons.
Today's vigil at Alexanderplatz began at 1 p.m. with a minute of silence. Afterwards, Yüksel Koç, co-chair of the Kurdish European umbrella organization KCDK-E, gave a speech in which he referred to the struggle of Nelson Mandela in South Africa and drew a comparison with Öcalan: "Abdullah Öcalan is fighting today not only for peace in Turkey and Kurdistan, but in the entire Middle East."
Koç also mentioned in his speech the letter campaign for Öcalan initiated by the KCDK-E and addressed to the UN.
Demir Çelik, spokesman for the Alevi Federation FEDA, said in a speech, "Abdullah Öcalan has been in severe isolation for 22 years. While he continues to work for peace and freedom, the Turkish state continues its campaign of annihilation."
A speech by the European Syriac Association drew attention to the policies of the Erdogan regime, saying, "Crimes are committed every day against the identities and values of peoples. The mentality based on annihilation, denial and assimilation does not know democratic and legal principles. An isolation concept is being implemented against Abdullah Öcalan and the other prisoners. From Libya to Nagorno-Karabakh, in the neo-Ottoman understanding, an expansionist war policy is being implemented that will lead to further massacres."
At the end of today's solidarity action, the prisoners struggling in Turkey were saluted again.
https://anfenglish.com/news/solidarity-action-for-political-prisoners-on-hunger-strike-continues-in-berlin-49337