Activists from the Duisburg Women's Council Asya Yüksel held a rally as part of the "100 Reasons to Condemn the Dictator" campaign demanding that AKP leader Erdoğan be tried as the main perpetrator of feminicide.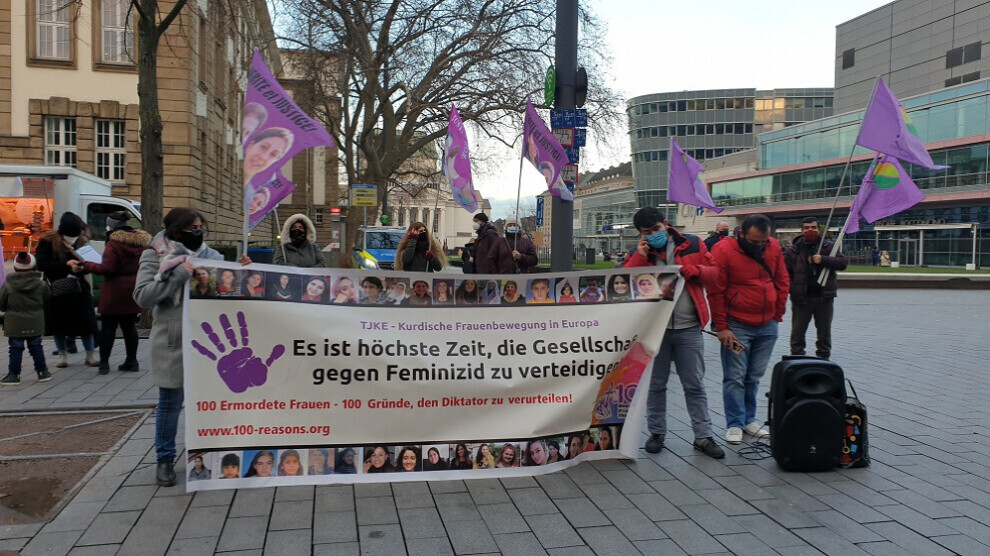 In Duisburg, activists from the Asya Yüksel Women's Council held a rally this Thursday to mark the "100 Reasons to Condemn the Dictator" campaign. The campaign, initiated by the Kurdish Women's Movement in Europe (TJK-E), denounces the anti-women and deadly policies of the Turkish AKP government. The women's movement demands that Turkish dictator Recep Tayyip Erdoğan be brought to justice for his crimes. Members of the Kurdish Society Centre in Duisburg supported the rally.
The meeting, which took place in the city centre in front of the Forum Duisburg, called for support for a petition that runs until 8 March for the international recognition of femicide as a crime against humanity. Amara Çîya from the Women's Council Asya Yüksel drew attention in a speech to the increase in deadly violence against women in Turkey. Since the Islamist-oriented Erdoğan party AKP has ruled the country, the number of murders of women has been increasing. In 2002, at the beginning of the AKP era, the statistics recorded 66 murders of women. Last year, the platform "We will stop feminicides" counted at least 300 feminicides, and the women's news agency JinNews even recorded 332 cases in which women were murdered by men. Women's rights organisations blame the Erdoğan regime's antisocial and war-oriented policies for the unprecedented increase in feminicides.
With the "100 Reasons" campaign, TJK-E therefore demands that the Turkish president be tried as the main perpetrator of feminicides. The number 100 is symbolic for the uncounted deaths in the soon to be 19 years of Erdoğan's government.
Further rally on Saturday
The rally today also addressed the situation of political prisoners in Turkey who have been on hunger strike since 27 November against their total disenfranchisement and the isolation regime on the prison island of Imrali, where PKK founder Abdullah Öcalan is isolated from the outside world. Amara Çîya called for people to take part in an event next Saturday (16 January) at 2pm on Königstraße in Duisburg. The meeting is to express solidarity with the political prisoners and protest against the inhuman conditions in Turkish prisons. Another topic will be the regime's political campaign of extermination against the HDP and ESP.
https://anfdeutsch.com/frauen/kundgebung-zur-100-grunde-kampagne-in-duisburg-23921