In Istanbul and several other cities in Turkey, women have protested against the withdrawal of women's rights. The entire civil society is to be brought into line with the AKP, women's rights are being massively attacked.
In dozens of cities in Turkey and Northern Kurdistan, women protested on Saturday against the threatened annulment of the Istanbul Convention and the insistence on the draft law on child marriages. The "TCK301 – Women's Platform against the Amnesty for Sexual Abuse of Children" called for the actions.
One of the actions took place at the Eminönü jetty in Istanbul's Kadiköy district. The participants protested with a purple chain against the state policy against fought-for women's rights. Banners demanded the implementation of the Istanbul Convention and the withdrawal of the draft child abuse law. The women carried signs saying "Isyan!" (Turkish uprising).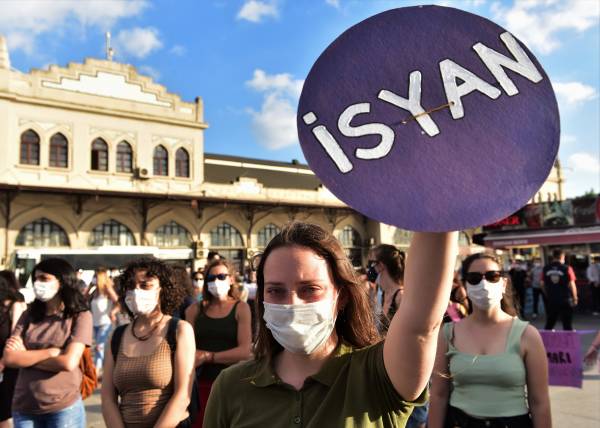 The law targeted by the AKP and MHP provides, among other things, for the impunity of rape of minors if the victim is married to the perpetrator. The women in Istanbul chanted "Don't protect the perpetrators, protect the children" and made it clear that there can be no consent in cases of abuse. "We are not silent, we are not afraid, we do not obey" and "Jin Jiyan Azadî" were other slogans at the action.
Speaking on behalf of the platform, Gamze Abay said, "As women's organisations, we are anxiously watching the initiative for an amnesty related to Article 103 of the Turkish Penal Code, which regulates the offence of sexual abuse of minors." According to the bill, a serious offence such as abuse would remain unpunished.
Gamze Abay pointed out that the bill to amnesty abusers is to be introduced before the parliamentary recess on 15 July and women are in permanent revolt for this reason. While the women were fighting against the amnesty, they had heard about preparations for Turkey to withdraw from the Istanbul Convention on Violence against Women. Withdrawing from the Convention would encourage violent men and be a danger to all women. Women affected by violence should be deprived of the courage to turn to state mechanisms, the statement said.
It is the fundamental and primary responsibility of the state to protect minors from sexual abuse. The amnesty initiative must be withdrawn immediately and never put back on the agenda, Gamze Abay said. Finally, the statement of the Women's Platform said: "Stop violence against women and girls! Give up threatening women's rights that have been fought for!"
The action ended with slogans and trills.

https://anfdeutsch.com/frauen/gebt-es-auf-erkaempfte-frauenrechte-zu-bedrohen-20333