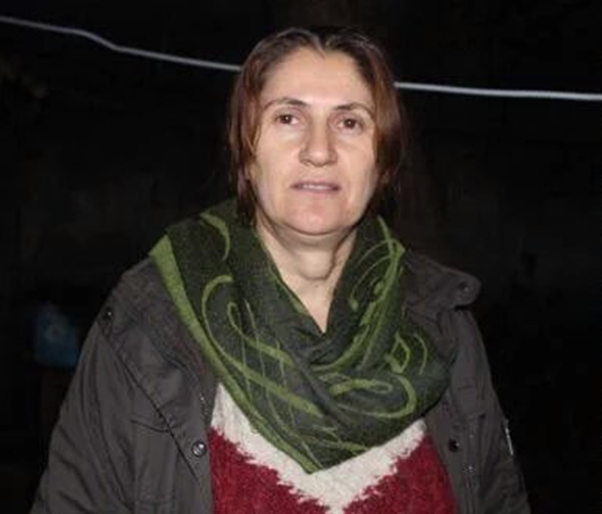 Asya Yüksel, a woman who has experienced a lot herself and who, sharing her experience, sought the path of women's liberation, was murdered precisely for this desire for justice and gender liberation.
14. Asya Yüksel
Biography
Asya Yüksel was born in 1973 in Şırnaks Uludere district. She was married at a young age and mother of two children. She was only 22 years old when her husband died in an accident at work. In 2005, Asya was involved in the activities of the People's Democratic Party (DEHAP) in Uludere. Asya, who later dedicated herself to the fight for women's freedom, was actively involved at political party level in Şırnak until 2011. Asya, who has been working for women in Siirt and Batman for a long time, continues this struggle as co-chair of the Cizre People's Assembly in 2015. One of the most delicate problems of Asya Yüksel, who was also married at a young age, was the question of women. For this reason, as co-chairwoman of the Cizre People's Assembly, she first made decisions prohibiting the marriage of children. Also under wartime conditions she always stayed with the families. She also played a role in the care of the injured. Asya Yuksel lost her life in one of the cellars of Cizre.
On December 14, 2015, a 78-day curfew was imposed in the Cizre district of Sirnak as part of the military victories. During this period at least 280 people were killed by police and military. In 262 cases, the identities of the victims could be established, another 18 people are still buried in the cemetery of the nameless. In days of February 7 to 12 2016, 137 people lost their lives in the cellars of three buildings.
Several people from the cellars tried to call for help over the phone and contacted HDP members of parliament, the media and even the European Parliament. They reported that they had taken refuge in the cellars with other survivors in order to seek shelter. They also reported that murdered people were in the cellars who had not survived the attacks. They pointed out that the Turkish military bombed the building they were in and called for immediate medical help to get them to the hospital. Their calls were then relayed to the emergency call centers 112 and 115. But because they didn't receive help, all people in those cellars were massacred in the cruellest way by the Turkish state. February 7, 2016 marks one of the cruellest episodes of these attacks. Turkish security forces diverted gasoline into a basement where dozens of people were locked up and burned them alive.
After this horrific mass execution of the people and the destruction of the buildings, the Turkish state had several TOKI buildings built on the ruins to prevent the collective memory of the cruel massacre in the cellars of Cizre.